Overview
**Registration is now open!
PowerED™ is pleased to partner with the Rick Hansen Foundation to deliver this self-paced online course which examines the impact of the social and physical environment on people with disabilities and introduces the application of universal design for creating meaningful access.
This course has been developed for a wide range of professionals interested in expanding their practical understanding of accessibility.
On completion of the course, participants will understand how people with disabilities interact with the built environment, to communicate in a respectful and inclusive manner, and to apply universal design principles to designing, operating, and delivering services in physical spaces.
"This type of course has been in demand since we launched RHFAC Training in 2017," said Jenny Blome, Manager of Special Projects for RHFAC and the lead in course development. "We are proud to now deliver a course with PowerED™ which will ultimately allow more people to understand the critical need of accessibility and be empowered to make improvements to ensure all people can equitably access all spaces."
The course is divided into easy to manage modules with an introduction to orient you to the course material and a conclusion that reinstates the topics covered. The course also includes a guide to help you stay on track.
The modules include:
Understanding Disability
Universal Design
Legal Framework and Compliance
How to Measure Accessibility
You will be given special access to the Accessibility Professional Network (APN), a network of accessibility professionals including RHFAC Professionals, accessibility consultants, experts in the built environment, and anyone interested in creating a Canada that's accessible for all.
Members of the network have access to the tools they need to grow an accessibility consulting business, as well as a forum to discuss and share the latest updates to the growing field of accessibility. You will gain exclusive access to postings on the job board, webinars, toolkits, research, case studies, and much more.
Why take this course?
Gain confidence in your ability to support the unique capabilities of a diverse workforce that includes people with disabilities.
Improve your decision-making skills relating to improving accessibility in work and living environments, operations, and service delivery.
Minimize potential organizational risks by understanding basic legal framework related to disability, accessibility, and compliance.
Increase your value to cross-functional teams by incorporating accessibility into project goals.
Claim your digital badge
Upon completion of Accessible Spaces 101, a digital badge is awarded. Share the badge and your earned competencies with your network.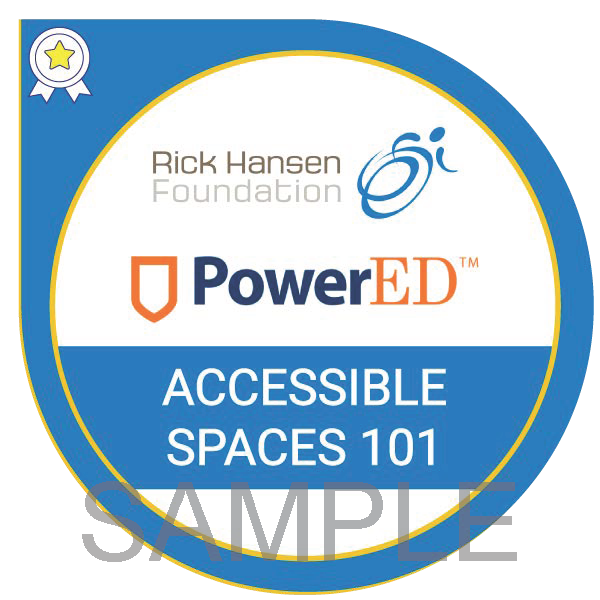 How It Works
Delivery
Online, On-Demand
Looking for more information on the Accessible Spaces 101 course?
Download our overview for quick reference to course details.
Download Now
Explain types of disabilities, barriers, and obstacles.
Learn and use inclusive language and etiquette.
Explain the impact of the social and physical environment on people with disabilities.
Describe the relevant legislation, regulations, and standards that influence accessibility in the built environment.
Explain the Universal Design principles and standards to consider when designing built environments to go beyond code
Describe how meaningful access can be measured using the RHFAC rating survey.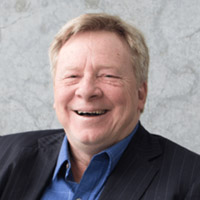 Brad McCannell
Vice President, Access and Inclusion
Rick Hansen Foundation
Brad is responsible for the content and integrity of the Foundation's Accessibility Certification™ program (RHFAC) and supporting training. Brad also helps the Foundation support disability causes nationally.
As a leader in the field of accessibility for the past 27 years, Brad has extensive experience in the practical application of universal design across the whole built environment, providing accessibility consultations globally. Projects include the 2008 Beijing Olympic and Paralympic Summer Games, the International Paralympic Committee's technical working group on accessibility (Bonn, Germany), Malaysia's Kuala Lumpur's International Airport, Naussau International Airport, along with many Vancouver area landmarks including Vancouver International Airport, Vancouver's Rogers Arena, Richmond Olympic Oval, the University of British Columbia, Vancouver Island University, the Vancouver Convention Centre(s), BC Ferries, the 2010 Vancouver Winter Olympic and Paralympic Games, among others.
Brad is also a member of the Accessibility Standards Canada Board, which is tasked with the development of accessibility standards for the federal government of Canada, in collaboration with industry and the disability community. He also provides recommendations for accessibility standards via the International Standards Organization - Technical Management Board's Strategic Advisory Group on Accessibility, in addition to addressing and monitoring key issues in the industry.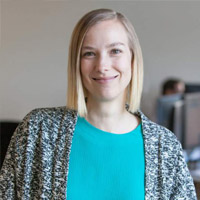 Fiona Jones, March, BA & Sc
Inclusive Design Advisor
Fiona is an Inclusive Design Advisor with HCMA Architecture + Design. She provides insights in some of the videos in this course. To learn more about Fiona visit the following link: https://hcma.ca/about/#fiona-jones.
Architects
HR and operations managers pursuing an inclusive hiring strategy.
Property and facility managers of commercial and multi-unit residential buildings wishing to know more about inclusive design before renovating a space.
Municipal planners looking to hire external RHFAC Professionals to get their buildings rated.
Federally regulated entities wishing to train cross-functional teams due to the Accessible Canada Act.
Occupational therapists looking to reduce barriers in their clients' environment; and
People with disabilities and advocates looking to remove barriers in their community.
Course FAQs
Is this an instructor-led course?
This course is designed to be self-paced with all materials you need for successful completion contained within the learning platform. The course has been designed by subject matter experts and includes interviews with leading experts, aligned to the course outcomes. The course is an immersive experience that includes a mix of content including video introductions and video content, impactful readings, learning checks, and interactive elements – all which can be completed at your own pace.
How much time will I need to spend?
The course is structured to be completed at your own pace within a two-week period. You will be spending approximately 8 - 10 hours of time per week on content. You will have access to the learning environment for 30 days in order to refer back to course material. After 30 days, the course will be closed.
Do I have to be online at a certain time of day?
No, you do not have to be online at a specific time. You complete the coursework at the times and places that fits your schedule. Each course is designed for working professionals who are balancing their work, family and community commitments.
When do I start?
You can start the course as soon as you register! You will automatically be directed to the interactive learning environment.
How long will I have access to the course?
You will have 90 days from the time of registration to complete the course. It is recommended to complete the course in two weeks.
What is the refund policy?
No refunds will be issued for courses. Refunds may be considered under exceptional circumstances on a case-by-case basis. Please contact powered@athabascau.ca for more information.
Are there tests or quizzes involved?
There will be an assessment after each unit. All assessments are designed to be accessible and easy to complete by engaging in the course content. Within each module, you will have the answers to each assessment.
Does this course have prerequisites?
This course does not have a required prerequisite.
Who do I contact if I need help?
You can contact powered@athabascau.ca for assistance with any questions you may have. We are here to help!
PowerED™ Advantage
Digital learning for maximum flexibility
Content developed by industry experts