**New Course Offering**

Digital Wellness 101: Optimizing Your Time & Energy
While there are many wonderful benefits of technology, there is also a growing set of unintended consequences from digital overuse, including text neck, loss of productivity, anxiety from fear or missing out (FOMO) and more. Leaders need education and guidance. We are here to help!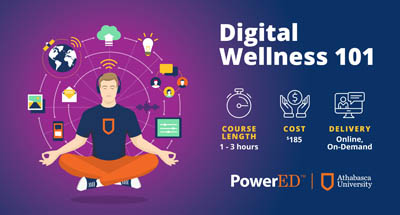 Why us?
ON-DEMAND ENROLLMENT
Register today, start immediately! Choose from our interactive and engaging online courses to develop your skills on your time.
EXPERIENTIAL LEARNING
Application of concepts directly to your career enables you to learn through practice and reflection.
CORPORATE SOLUTIONS
Our 4A Methodology and full-service solutions enable organizations to develop employee skills and boost internal capacity.
---