Overview
** The certificate is open for registration with immediate access all courses.
The micro-credential on Innovative and Diversified Energy Resources familiarizes learners with a wide range of energy resources. It is based on the recognition that a prudent energy strategy for a modern and future economy is one that is both pragmatic and broad-based, tapping into a diverse range of resources and capitalizing on both their availability and technology.
In this micro-credential, you'll learn about a range of energy resources that should be part of any modern advanced economy. These include both fossil fuels and alternative sources, such as nuclear power and renewable resources. We'll explore the science behind the formation of each resource, how the resource is harnessed, environmental effects, and its prospects going into the future.
The four courses in the Innovative and Diversified Energy Resources Micro-Credential include:
Earth Materials, Environment, and Energy Resources
Fossil Fuels
Alternative & Innovative Energy
Environmental Impact Assessment
Establish the importance of situated and authentic leadership and to guide learners in developing their own authentic leadership goals, vision, mindset, and philosophy
Support and establish dynamic, high-functioning workplace teams
Develop tools, principles, and strategies for effective workplace communication and successfully navigate workplace conflict
Gain proficiency and confidence in completing daily leadership, managerial, and supervisory activities
How It Works
Effort
10-12 hours per week
Program Duration
3 - 6 months
Delivery
Online, On-Demand
The micro-credential is directed at a broad range of learners who want to acquire a well-rounded, modern, and forward-looking perspective on energy resources. This includes energy sector employees, mid-level managers in various sectors, individuals seeking a career change, provincial and federal politicians, energy enthusiasts, and environmental activists.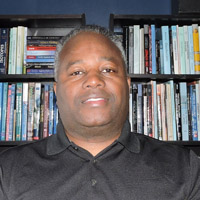 Ken Munyikwa, Associate Professor / Associate Dean, Student Experience
Ken holds a Bachelor of Science in geology and chemistry as well as a Master of Science in engineering geology. Following the completion of a PhD in Quaternary geology at the Free University of Brussels, Ken took up a postdoctoral research position at the University of Illinois at Chicago. This was followed by a three - year visiting assistant professor appointment at Seoul National University in South Korea before joining Athabasca University in 2006 where he currently serves as an associate professor of geology.
Certificate FAQs
Is this an instructor-led certificate?
The courses within this certificate are designed to be self-paced with all materials you need for successful completion contained within the learning platform. The certificate has been designed by subject matter experts and each course includes interviews with leading experts, aligned to the course outcomes. The certificate is an immersive experience that includes a mix of content including video introductions and video content, impactful readings, learning checks, and interactive elements – all which can be completed at your own pace.
How much time will I need to spend?
Each course is structured to be completed at your own pace over a two-week period. You will be spending approximately 8 – 12 hours of time per week on content. Should you need more time, the learning environment may be available for 30 days to complete each course. You can complete all of the courses within 3 – 6 months to earn your certificate.
Do I have to be online at a certain time of day?
No, you do not have to be online at a specific time. You complete the coursework at the times and places that fits your schedule. Each course is designed for working professionals who are balancing their work, family and community commitments.
When do I start?
You can start your first course as soon as you register for the certificate! You will automatically be directed to the interactive learning environment.
How long will I have access to my courses?
You will have 30 days from the time of registration to complete each course. It is recommended to complete the course in two weeks.
What will I receive after I complete all of my courses?
You will receive a digital certificate of completion that is downloadable and printable. Digital badges are also awarded for specific achievements throughout the certificate.
What is the refund policy?
No refunds will be issued for the certificate. Refunds may be considered under exceptional circumstances on a case-by-case basis. Please contact powered@athabascau.ca for more information.
Are there tests or quizzes involved?
There will be activities, assignments, and short quizzes within each course to ensure you understand the content. All quizzes are designed to be accessible and easy to complete by engaging in the content. Within each module, you will have the answers to each evaluation.
What are the computer requirements for this certificate?
If you can access the Internet, you can access the course environment. The course environment is compatible with laptops, PCs, tablets and smart phones.
Does this certificate have prerequisites?
This certificate does not have a required prerequisite.
Who do I contact if I need help?
You can contact powered@athabascau.ca for assistance with any questions you may have. We are here to help!
PowerED™ Advantage
Digital learning for maximum flexibility
Content developed by faculty and industry experts