Overview
Abraham Lincoln and Peter Drucker both have been credited with the quote, "The best way to create the future is to invent it." This assertion is particularly true in the digital realm. If you're not adopting technology continuously to improve your business processes, enhance customer experience, or advance your business model, be assured that someone else is.
In this course, you will be introduced to digital strategies that have the potential to transform your business, whether you're looking to prepare your business to withstand competitive disruption or gain a competitive advantage through digital technologies. The course primarily offers a business leadership perspective, rather than a technical approach. The end goal is to give you a better understanding of how you can address both the risk and opportunities that digital technologies are bringing and provide support on the development of an initial digital strategy.
Claim your digital badge
Upon completion of Crafting a Digital Strategy, a digital badge is awarded. Share the badge and your earned competencies with your network.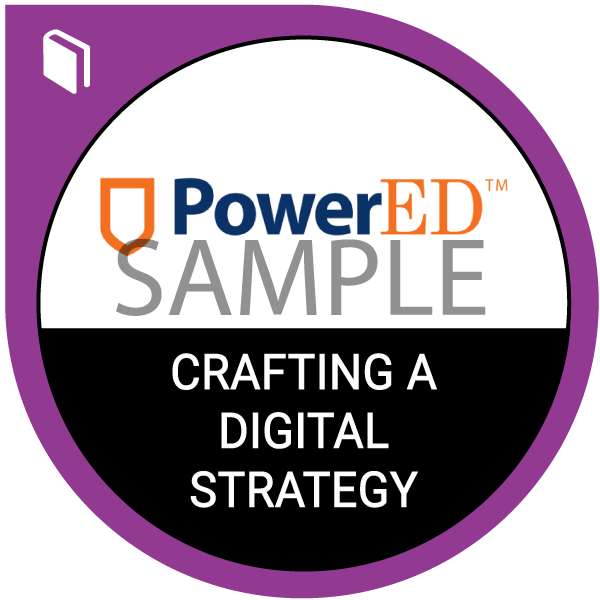 How It Works
Delivery
Online, On-Demand
Looking for more information on the Crafting a Digital Strategy course?
Download our overview for quick reference to course details.
Download Now
Describe your organization's ability to value and use data to transform operations, sales, and business model
Evaluate your organization's digital health
Construct a digital SWOT
Identify the impacts on your organization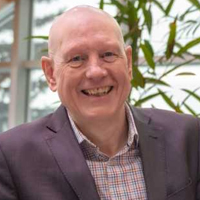 Brian Stewart
Brian Stewart is the Deputy CIO at the University of Alberta. His role is to provide strategic leadership, vision, and direction for information services and technology and to direct business transformation through project and change management while also leading initiatives for continuous operational and service improvement. Brian's background is in strategic, operational and technology management in the printing and higher education sectors, and he has consulted, written and spoken widely on these topics. He previously developed and taught a course on Green IT for the Athabasca University (AU) Master of Science in Information Systems. Brian has an MA in Economics from University College Cork, an MBA from Athabasca University and is currently completing a PhD at the University of Eastern Finland. Brian has published a number of papers and presented at conferences on the topic of technological change and digital transformation.
Managers/leaders that have an introductory-level understanding of business and economics
Managers/leaders that have a basic familiarity with IT and digital technology, including a grasp of concepts such as networking, algorithms, and databases
Organizations that want to understand how new technologies will affect their future
Course FAQs
Is this an instructor-led course?
This course is designed to be self-paced with all materials you need for successful completion contained within the learning platform. The course has been designed by subject matter experts and includes interviews with leading experts, aligned to the course outcomes. The course is an immersive experience that includes a mix of content including video introductions and video content, impactful readings, learning checks, and interactive elements – all which can be completed at your own pace.
How much time will I need to spend?
Each course will require 16-24 hours to complete. You will have 90 days access from the time of registration to complete the course. After 90 days, the course will be closed.
Do I have to be online at a certain time of day?
No, you do not have to be online at a specific time. You complete the coursework at the times and places that fits your schedule. Each course is designed for working professionals who are balancing their work, family and community commitments.
When do I start?
You can start the course as soon as you register! You will automatically be directed to the interactive learning environment.
How long will I have access to the course?
You will have 90 days from the time of registration to complete the course.
What is the refund policy?
No refunds will be issued for courses. Refunds may be considered under exceptional circumstances on a case-by-case basis. Please contact powered@athabascau.ca for more information.
Are there tests or quizzes involved?
There will be activities, assignments, and short quizzes within the course to ensure you understand the content. All quizzes are designed to be accessible and easy to complete by engaging in the course content. Within each module, you will have the answers to each evaluation.
Does this course have prerequisites?
This course does not have a required prerequisite.
Who do I contact if I need help?
You can contact powered@athabascau.ca for assistance with any questions you may have. We are here to help!
PowerED™ Advantage
Digital learning for maximum flexibility
Content developed by faculty and industry experts