Overview
We live in a period of rapid technological change. Innovative new technologies are pervading all aspects of everyday life, as well as commercial and manufacturing sectors. These changes are leading many to suggest that a new industrial revolution is currently underway. However, with the pace of change being so rapid, potentially transformative technologies and terminologies are constantly being introduced, to the point that it can be difficult for management and IT professionals to keep track and stay on top of developments.
This course has been designed with this issue in mind and is based on achieving three main outcomes. First, the course aims to familiarize you with some of the most important elements of the digital economy. Second, the course has been designed to help open and explore key questions relating to the effect that the widespread adoption of these technologies will have upon individuals, business and society. Third, and most importantly, the course builds towards a consideration of the effect these technologies will have upon your organization.
Claim your digital badge
Upon completion of Decoding Disruptive Technologies, a digital badge is awarded. Share the badge and your earned competencies with your network.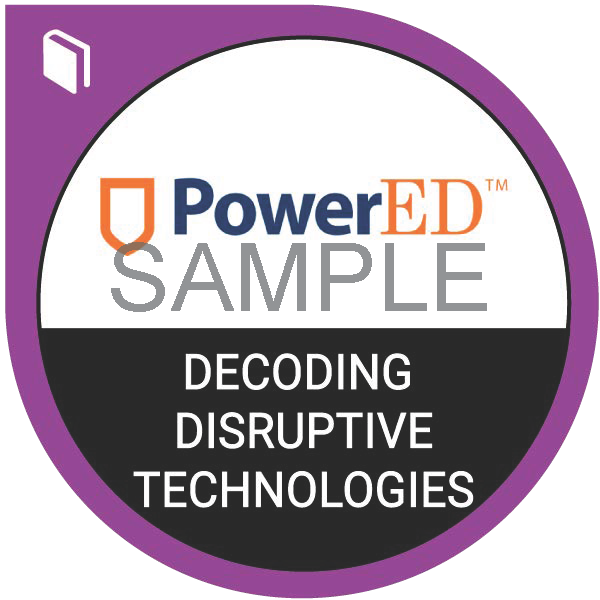 How It Works
Delivery
Online, On-Demand
Looking for more information on the Decoding Disruptive Technologies course?
Download our overview for quick reference to course details.
Download Now
Explain the operation of a range of disruptive digital technologies
Evaluate the business, economic and societal impact of these technologies
Identify the transformative effects of technology demonstrated in real-world case studies
Predict how the changing state of technology will change the nature of business, the economy and society in the future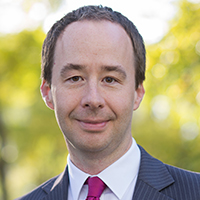 Joe Cox, PhD
Dr. Joe Cox is an economist specializing in digital economy. He received a PhD from the University of Portsmouth and worked for the university for over a decade. While working at the university he held several positions including Director of Undergraduate Programs in Economics. In 2018 he joined Athabasca University as the Canada Research Chair. Dr. Cox actively researches in digital economy and his research is in journals like Kyklos and the Journal of Cultural Economics. He features in other writings like the Handbook of Research on Crowdfunding. Dr. Cox has been instrumental in establishing significant partnerships and research collaborations with external organizations such as Lendwithcare (part of CARE International), the Citizen Science Alliance and the Crowdfunding Centre.
Managers/leaders that have a basic level understanding of business and economics
Managers/leaders that have familiarity with IT and digital technology, including a grasp of concepts such as networking, algorithms, and databases
Organizations that want to understand how new technologies will affect their future
Course FAQs
Is this an instructor-led course?
This course is designed to be self-paced with all materials you need for successful completion contained within the learning platform. The course has been designed by subject matter experts and includes interviews with leading experts, aligned to the course outcomes. The course is an immersive experience that includes a mix of content including video introductions and video content, impactful readings, learning checks, and interactive elements – all which can be completed at your own pace.
How much time will I need to spend?
Each course will require 16-24 hours to complete. You will have 90 days access from the time of registration to complete the course. After 90 days, the course will be closed.
Do I have to be online at a certain time of day?
No, you do not have to be online at a specific time. You complete the coursework at the times and places that fits your schedule. Each course is designed for working professionals who are balancing their work, family and community commitments.
When do I start?
You can start the course as soon as you register! You will automatically be directed to the interactive learning environment.
How long will I have access to the course?
You will have 90 days from the time of registration to complete the course.
What is the refund policy?
No refunds will be issued for courses. Refunds may be considered under exceptional circumstances on a case-by-case basis. Please contact powered@athabascau.ca for more information.
Are there tests or quizzes involved?
There will be activities, assignments, and short quizzes within the course to ensure you understand the content. All quizzes are designed to be accessible and easy to complete by engaging in the course content. Within each module, you will have the answers to each evaluation.
Does this course have prerequisites?
This course does not have a required prerequisite.
Who do I contact if I need help?
You can contact powered@athabascau.ca for assistance with any questions you may have. We are here to help!
PowerED™ Advantage
Digital learning for maximum flexibility
Content developed by faculty and industry experts