Overview
*Note - this course is currently under maintenance, please register interest to be notifed when it becomes available*
Physical Distancing and working remotely have become a reality due to COVID-19. New challenges for how teams and leaders interact and engage as a business are shifting and arising daily. Some workplaces have been forced to respond quickly in the face of the emerging crisis, adopting remote work strategies where possible, and reimagining product and service offerings where necessary. Others are facing new challenges as they work to keep essential services active and available. The wealth of information and constant updates can become overwhelming, so focusing on tangible and realistic solutions are more important than ever.
This free, online, self-directed micro-course has been created to provide you with strategies, tools, and frameworks to successfully navigate the new realities introduced by the COVID-19 pandemic.
"The course was refreshingly optimistic and inspiring. There were many ah-ha moments for me - but the one that stands out most is recognizing that not everyone uses the same coping mechanisms during these extraordinary times. As a teammate and leader, we need to be mindful of what others may be going through and practice empathy with each other. The supporting videos and articles gave tangible takeaways that I will be able to implement immediately in both my personal and professional life." ~ Sara, Marketing Coordinator, PowerED™ learner.
In this micro-course, you will learn to:
Re-evaluate what is possible within present conditions and reframe your relationship to what it means to be productive at both an organizational and individual level
Reconnect with your capacity to practice influence and control in the face of constraints and limitations
Support the health and wellbeing of your team through empathy and effective communication
Identify and articulate your own feelings and emotions in connection to the present situation
Bring intention to how you want to show up as a leader, the impact you want to have, and how you want to be remembered during this crisis
Claim Your Badge
Upon completion of Navigating Extraordinary Times, a digital badge is available.
Make sure to request your badge from PowerED™ and share it with your network.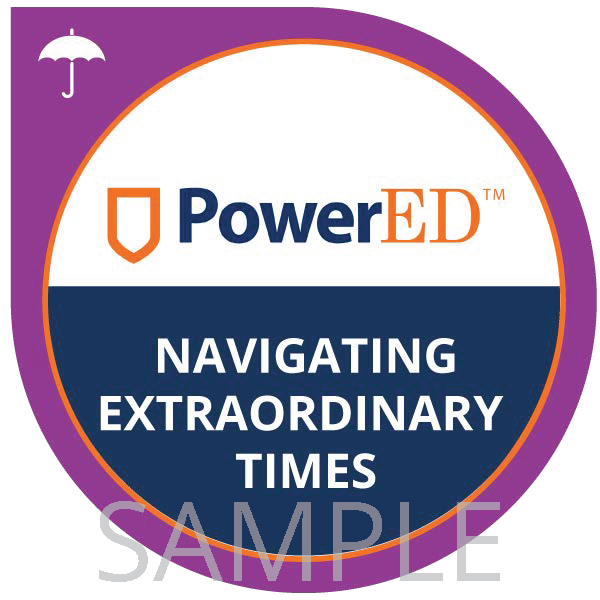 We understand – businesses, teams and individuals are facing enormous strain at the moment. That is why you will not find any mandatory requirements, exercises, or evaluations here-- just short, easy-to-digest content, videos, and interactions. Work through the course at your own pace and on your own schedule. Walk away when you need to and come back as often as you like.
Hear directly from individuals, and business owners on how they are responding to this current moment through our features and real-time polls. Go deeper by following the links throughout or check out the appendix for more articles, resources, and videos.
"The course was like a warm hug going through it and I felt my stress level decrease as I went further into the sections on empathy, vulnerability and resiliency. It was great to immerse myself in the idea that these are essential "business" skills that are truly valued now, not taken for granted or seen as weakness in this context." ~ Julia, Manager, Development Services, PowerED™ learner.
PowerED™ Advantage
Digital learning for maximum flexibility
Content developed by faculty and industry experts