Overview
Build a life that leaves you feeling energized, connected, and ready to tackle daily goals and challenges!
We all go through times when we feel a little lost. Circumstances change, priorities shift, and real life sometimes falls short of our expectations. We may struggle to know what we really want in our lives. Or, we may know what we want but not know how to get there. This course has been designed to get you on your way.
Highlights of the Course
Through interactive content, animated videos, and self-reflection activities that you can download and take with you, you will be guided to reconnect with your core values, strengthen your sense of purpose, and set realistic and meaningful goals.
Who should take this course?
This course is for everyone. It guides you to identify your key strengths so that you can connect with your wider community and realize your personal and professional goals.
Organizations interested in providing a structure to help promote their employees professional success through motivation and achievement. Connect with PowerED™ for organizational pricing.
Claim your digital badge
Upon completion of Purpose & Flow: Future-Proof Your Goals, a digital badge is awarded. Share the badge and your earned competencies with your network.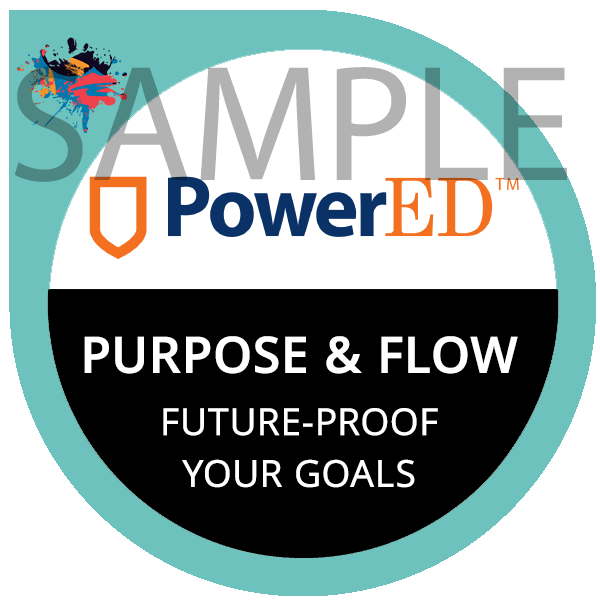 How It Works
Course Length
Complete at your own pace
Effort
6-8 hours of total learning
Delivery
Online, On-Demand
Cost
$420
Interested in organizational pricing? Connect with PowerED™ today.
Cultivate a greater sense of purpose by tapping into your core values, identifying your key strengths, connecting with your wider community, and practicing awe and gratitude.
Reflect upon the commitments, desired changes, and goals in your life that are most important to you.
Fulfill fundamental aspects of goal-setting, while drawing on a variety goal-setting strategies, frameworks, and models.
Create a flow-conducive environment, minimize distractions, and develop supportive habits to improve your productivity and focus.
Recognize the importance of taking restorative breaks, practicing self-care, and developing self-compassion.
Routinely reflect upon and adjust your goals as life circumstances and priorities evolve.
Course FAQs
Is this an instructor-led course?
This course is designed to be self-paced with all materials you need for successful completion contained within the learning platform. The course is an immersive experience that includes a mix of content including video introductions and video content, audio files, impactful readings, learning checks, and interactive elements – all which can be completed at your own pace.
How much time will I need to spend?
The course is structured to be completed at your own pace within 6-8 hours, but you set your own schedule! The learning environment will be available for 90 days to complete the course.
Do I have to be online at a certain time of day?
No, you do not have to be online at a specific time. You complete the coursework at the times and places that fits your schedule. Each course is designed for working professionals who are balancing their work, family and community commitments.
When do I start?
You can start the course as soon as you register! You will automatically be directed to the interactive learning environment.
How long will I have access to the course?
You will have 90 days from the time of registration to complete the course. Total learning time is 6-8 hours.
What is the refund policy?
No refunds will be issued for courses. Refunds may be considered under exceptional circumstances on a case-by-case basis. Please contact powered@athabascau.ca for more information.
Are there tests or quizzes involved?
There will be an assessment after each unit. All assessments are designed to be accessible and easy to complete by engaging in the course content. Within each module, you will have the answers to each assessment.
Does this course have prerequisites?
This course does not have a required prerequisite.
Who do I contact if I need help?
You can contact powered@athabascau.ca for assistance with any questions you may have. We are here to help!
PowerED™ Advantage
Digital learning for maximum flexibility
Content developed by industry experts