Overview
**This course runs from January 16th to February 26th, 2023. Register now to secure your spot!
Learn how to execute projects and adjust to changes that may derail your project plans in the traditional and agile project management environments. Develop a fundamental project management discipline for continuously identifying risks and resulting changes to keep your projects on course. Leverage project plans to develop effective project reporting and manage the projects using Earned Value Management and Trend analysis. As part of Integration Management, learn how to manage resources effectively and close-out projects.
If you have previously completed Project Launch and Project Planning, you will utilize the project assignments you have previously completed.
Course Material
All course materials such as readings, templates, and examples are provided and are incorporated within the learning modules. You will download the necessary materials as you progress along the modules.
Required Textbook: Effective Project Management: Traditional, Agile, Extreme, Hybrid 8th Edition.
Optional Textbook: The 7th edition of A Guide to the Project Management Body of Knowledge (PMBOK® Guide), Project Management Institute, Newtown Square, PA, 2017. PMI offers this publication for free to members. For more information about membership benefits, please visit PMI at www.pmi.org.
Weekly Discussion Schedule
Join your instructor virtually every Monday and Wednesday at 6:00 PM MT for the duration of the course. You will review the topics and assignment on Monday and the follow-up session on Wednesday is reserved for Q&A. It is highly recommended that you attend these sessions.
Just as a successful face-to-face class thrives on engaging discussion and participation, so does an online and remote class. The success of this course relies on building a strong, respectful course community. This is achieved through regular participation and attendance at the live remote meetings. Each of you brings valuable insights and experience and your contributions are critical to the success of this course.
Claim Your Badge
Upon completion of Project Execution, a digital badge is available.
Download your badge from PowerED™ and share with your network the verified skills and competencies you achieved by completing this course.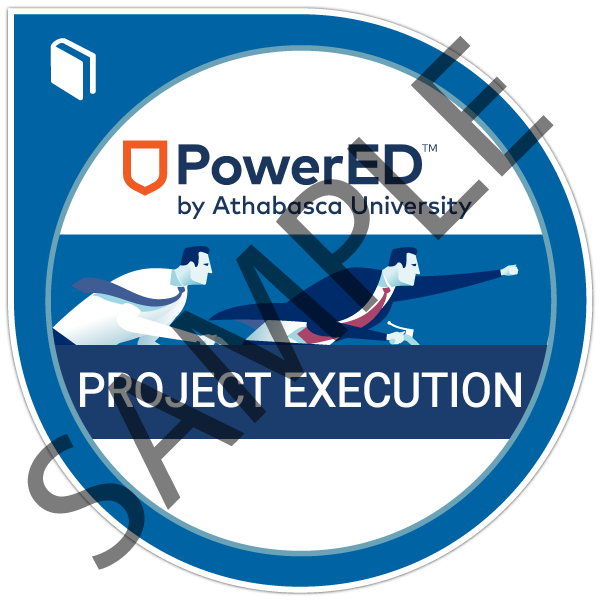 How It Works
Instruction
Instructor-led
Conduct project execution according to project plans in both the traditional and Agile project management environments and effectively manage resources throughout project execution
Prepare for changes that lead to adjusting and re-planning your projects to success. Create Risk Registers with Risk Responses that lead to effective Change Requests through Impact Analysis and result in efficient Configurations Management
Monitor and control projects with Earned Value and conduct phase and project Close-out efficiently with effective Lessons Learned to build enterprise knowledge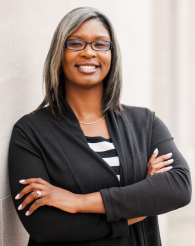 Dr. Alma Miller
Dr. Miller is an enthusiastic entrepreneur, speaker, DevOps thought leader, and educator with over 15 years of experience in the IT industry. She obtained a Bachelors in Electrical Engineering from Catholic University, a Masters in Electrical Engineering from George Washington University, a Masters in Technical Management from Johns Hopkins University, and a Doctorate in Engineering from George Washington University.
She is a certified Project Management Professional (PMP) and Agile Certified Professional (PMI-ACP). She has several Scaled Agile Framework (SAFe) certifications ranging from Advanced Scrum Master (ASM), Product Owner/Product Manager (PO/PM), and Release Train Engineer (RTE).
Dr. Miller started her consulting company, AC Miller Consulting, in 2013. She provides services to government and commercial clients across multiple industries helping with ITIL and DevOps transformations. Dr. Miller speaks at industry conferences and events and is a contributing author to www.ThinkHDI.com, a platform for data center and IT professionals. She is the co-creator of the BVE Summit, a conference for entrepreneurs and business owners. Feel free to connect with her on LinkedIn.
-->
Individuals in any discipline who work on projects in either the public or private sector
Individuals preparing to pursue career opportunities in the area of project management
Course FAQs
Does this course have prerequisites?
This course does not have a required prerequisite.
Is this an instructor-led course?
This course is coached by an instructor and includes virtual lectures, videos, online discussions, and some group work. You will have access to the instructor during designated "office hours" which are outlined in each course.
How much study time will I need to spend?
Each course is six weeks in length. You will be spending approximately four to six hours of time per week on content. There are weekly assignments and deadlines but material may be accessed and completed at any time of day. You can complete all of the courses within 8 months to earn your certificate.
Are there tests or quizzes involved?
There will be graded discussions, assignments, group work, and quizzes within each course to ensure you understand the content.
Can I take only one course or do I have to register for the certificate?
You can register for just one course, however, each course builds on assignments completed in previous courses. We highly recommend you take each of the previous courses in the suggested sequence in order to maximize your project management knowledge and skills.
Do I have to take the courses in the order displayed on the website?
If possible, you should adhere to the course schedule because the coursework builds on previous assignments. If you must take a break from studies, you can register in your next course in the upcoming offering. Future courses are scheduled at regular intervals.
Do I have to be online at a certain time of day?
No, you do not have to be online at a specific time. There are weekly assignments and deadlines but you can complete the coursework at the times and places that fits your schedule.
How long will I have access to my courses?
You will have access to all courses in the certificate for 2 months post completion. All Course videos, additional readings, and supplemental videos are available to download.
What will I receive after I complete all of my courses?
You will receive a digital certificate of completion that is downloadable and printable. Digital badges are also awarded for specific achievements throughout the certificate.
What is the refund policy?
No refunds will be issued for the course. Refunds may be considered under exceptional circumstances on a case-by-case basis. Please contact powered@athabascau.ca for more information.
Who do I contact if I need help?
If your questions are course related, you can contact the course coach – contact information provided within the course environment. If you are having issues accessing the course or advancing through the course, you can contact powered@athabascau.ca. We are here to help!
PowerED™ Advantage
Digital learning for maximum flexibility
Content developed by faculty and industry experts